//
PKS @ Pasquiere Restaurant | Bars and restaurants
Info
Value for money | Super view
Anse Boudin / Praslin | Praslin
10.7 km from Jetty / 18.1 km from Airport
Wonderful position, overlooking the valley and sea to enjoy the sunset
Relaxing, quite and comfortable with possibility of balcony seating
Typical creol dishes and all kinds of curries (chicken and prawn, fish, octopus)
All day breakfast, beef sirloin steak, fish fillet, seafood platter, seared tuna steak, noodles
The english owner is the cook and likes to share his experience of living in Seychelles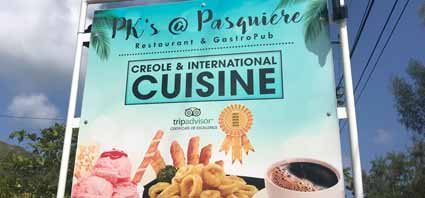 Our offer
• Come and enjoy our great, fresh and tasty food.

• We serve typical creol dishes like the seared tuna steak and all kinds of curries (chicken and prawn, fish, octopus), plenty of seafood dishes.

• All cooked by the owner himself. Excellent coffee choice.


About us
• Located up on the side of the hill, on the road to Anse Lazio, the restaurant has a nice view out to the ocean and the sightseeing of the bay is awesome.

• It is medium size place with plenty of room around the tables which is really relaxing, quite and comfortable. There is a possibility of balcony seating.

• Our great food, friendly welcome and good service will make the difference. And the bill will put a smile on your lips.
Open everyday 7/7 from 11am till 11.00pm
The english owner is the cook and likes to share his experience of living in Seychelles