//
Le Cafe de Celiska | Bars and restaurants
Info
Anse Consolation / Praslin | Praslin
We are open for lunch and dinner and serve authentic creole cuisine, test also our delicious pizzas
Local products, sandwiches, salads, smoked fish platter, smoked fish salad, fish salad creole style
Homemade fresh fruit cocktail, fresh lime juice, papaya juice, passion fruit juice, soft drinks
Fresh fruit salad, coconut nougat, caramelized bananas, fruits platter, milk shakes, Ice lemon grass
Nature trail, eco site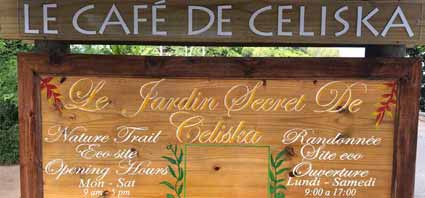 Our offer
Take a break at Café de Céliska, a must-visit place on the Praslin south coast, Anse Consolation!
• Facing the ocean, you can enjoy a delicious homemade fresh fruit cocktail or a scrumptious smoked fish salad...
• Experience our authentic creole cuisine and our delicious pizzas.
• It's all about local product: let your curiosity make you try our breadfruit or indulge in our sour sop.

About us
Welcome to Le Café de Céliska !
• Céliska, my grandmother, lived here in the 1900s. She was married to James Lablache.
• They had 5 children: Leandre, Leon, Almée, Gelase and Myrtha, my mother.
• Seamstress and dressmaker by profession, she played the accordion and the mandolin artfully.
• Very sweet and warm, she loved to prepare her favorite dishes: vegetables broth, salted pork meat, cassava pinpin, mango chatini, saffron chicken curry ....
• It is therefore in honor of my grandmother that I have the pleasure of welcoming you to le Café de Céliska. You can extend your visit by Le Jardin secret de Céliska and rest for a few
days in one of the two rooms of La Maison de Céliska, facing the ocean.
Achille Savy

Monday - Saturday : 9am-10pm / Sunday closed
Payment accepted: cash - foreign currencies